HelensBottleShop
Regular price
Sale price
$0.00 USD
Unit price
per
Sale
Sold out
Sep 2020, Issue 1
Dancing in September
It's hard to believe, but summer is already on it's way out the door and here we are, still navigating these new ways of being in the world. For me, a big positive is getting to collaborate remotely with Alexis, someone I admire greatly and who's taste in wine has guided my own for many years. With these monthly newsletters, we're hoping to take you on a virtual trip around the world, looking a little deeper into some stellar winemakers and the magical places they come from. This is escapism at its finest. So pour yourself a glass, put on some Earth, Wind and Fire, and let's get dancing.
- Jeremy
---
Feldstück Chardonnay
We begin in Kamptal, Austria with wunderkind winemaker Matthias Warnung. After working with esteemed South African winemaker Craig Hawkins, Matthias came home to the Kamptal to take over his father's vineyards in 2010. Natural winemaking to him means respect for his immediate environment, and the challenge to use existing structures. Matthias always lets his wines ferment spontaneously, and adds little to no sulfur.
Feldstück Chardonnay is hand-harvested and aged in old barrels for 2 years before being bottled unfined and unfiltered.
Why We Love It
This is chardonnay for people who don't like chardonnay. Singular, unique and out of this world. Notes of orchard fruit, chamomile, citrus and dried grasses. Textured, hazy, aromatic and balanced.
Click the label for more!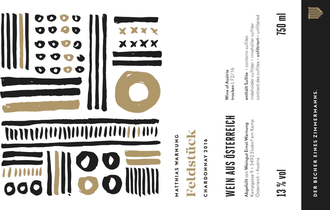 ---
Viteadovest, Vurgo
Our next stop is the ancient village of Marsala in Sicily. An island of extremes, Sicily produces some truly exciting and unique wines. At Viteadovest, Vincenzo and his family are as passionate about their home and it's history as they are about the wines themselves. A true family project, Vincenzo manages the vineyards with his father and uncle, while his wife, mother and aunt help in the cellar. Focusing on native varietals and low intervention, they let the vines and the land speak for themselves.
Vurgo is an orange wine, equal parts Grillo and Catarratto, both native to Sicily.
Why We Love It
Grillo is already textural and slightly savory, but the skin-contact here takes it to another level! This wine is super bright with notes of citrus, bruised apples, cedar and a slight hint of roasted nuts. Clean, crisp and delicious. Best with just a slight chill.
Click the label for more!
---
Ampeleia, Alicante
Traveling north, we finish our journey in Tuscany, Italy. The brainchild of Elisabetta Foradori who fell in love with this land on the Italian coast, Ampeleia is run by winemakers Marco Tait and Simona Spinella. The estate is made up of 3 different altitude levels, growing different vines on each level based on the specific microclimates. The result is a real study on terroir and its effect on the finished wine. Beyond all that, these wines are playful and bursting with joy.
This alicante comes from a single, sandy vineyard and is aged in stainless steel for 6 months.
Why We Love It
Alicante is one of those rare teinturier grapes, with red flesh inside, and typically makes big and juicy wines. it's amazing to see it shine as brightly as it does here, lighter and more nuanced. Vivid and playful with notes of ripe strawberries, flowers and cracked pepper.
Click the label for more!
---
Liquid History
When considering wines from around the world, it's easy to be captivated when you hear words like "Mediterranean", "Island", and "Active Volcano". Maybe in part because we would all like to be floating in the blue waters of the Mediterranean or on our own island drinking wine right about now. As we navigate these unpredictable times, we are all searching for some kind of oasis, a happy place or an escape — something or somewhere that lets us be utterly detached from our surroundings, even for a moment.
Continue Reading
---
What's new at Helen's
As you may have noticed, our website has been undergoing a big redesign. Some exciting new features include wishlists, customer accounts, and a virtual bulletin board full of dynamic ways to discover new wines. Head over to the online shop for the full experience!
---
Thanks for reading and until next time, Cheers!
---
Share
View full details